Iarnród Éireann will lodge plans this week for the extension of the electrified DART network from the Connolly/Spencer Dock area to west of Maynooth and on to the M3 Parkway in Co Meath.
The company said it will deliver a more sustainable transport option for a number of communities, such as Maynooth, Leixlip and Castleknock.
The application to develop the project, DART+ West, is to be submitted to An Bord Pleanála this week.
If planning permission is granted, construction will commence in 2024 and the new service could start operating by 2029.
A statutory public consultation period will run from 5 August until 30 September.
Iarnród Éireann has said potentially impacted landowners and occupiers will be contacted directly in advance of the lodgement of the order.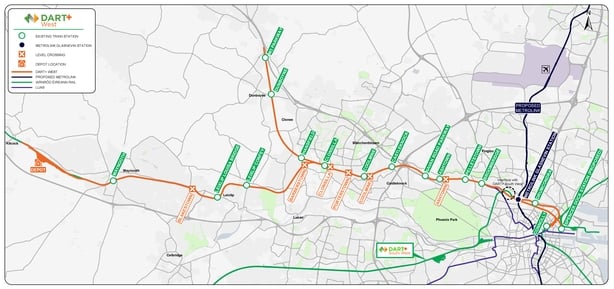 The application from Iarnród Éireann includes plans for a new station at Spencer Dock, which will interchange with the Luas Red Line and a new second station entrance on Preston Street and rail capacity enhancements at Connolly Station.
It also proposes building a new DART depot west of Maynooth Station, to maintain the new DART+ fleet.
Iarnród Éireann's Communications Manager Barry Kenny said the plan is about "transforming capacity" on the Maynooth and M3 parkway lines.
"This will allow us to run more trains, more frequently. We will be developing a new entrance at Connolly Station and relocating Spencer Dock and building a new fleet depot west of Maynooth Station," he told RTÉ's Morning Ireland.
Minister for Transport Éamon Ryan said: "DART+ West will, for the first time, connect established and new and growing communities to the west of our capital city and into Kildare and Meath along a modern, electrified, fast and frequent rail line.
"This is the first of many railway orders to come, which will transform travel in the greater Dublin area, and help us meet our climate targets."
National Transport Authority CEO Anne Graham said: "Thanks to DART+, passenger capacity and service frequency will be vastly improved for people across the rail network in the Greater Dublin Area over the coming years."
Iarnród Éireann Chief Executive Jim Meade said the DART+ will "truly revolutionise commuting in the Greater Dublin Area".
Article Source: Plans to extend DART to Maynooth and M3 Parkway – RTE